It was a pleasure to exhibit at Liverpool MakeFest last weekend. We were made to feel very welcome and the venue was amazing. The MakeFest took over the central library in Liverpool. The library has ultra modern architecture with floating walkways in the sky and an amazing roof terrace overlooking the city.However the building retains some of the original oak rooms with really traditional reading rooms.
We were swamped with visitors from opening to after closing! People were queuing to have a go of our sticker critter and cognitive mirror.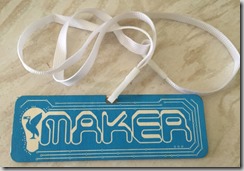 For this show, I reprinted the critter nose in yellow that gives a much more distinctive face. I also improved the messaging and animations on the LCD screen. This has resulted in a speed improvement as the critter no longer has to wait for the messages  on the screen. As one of the things that visitors seem to be amazed by is the speed the sticker is produced, this should make them even more impressed. This show also uses the self peeling sticker option on the new ebay Zebra printer. This means the visitors don't have to rip the sticker off, that resulted in no jams and less messing..
I also updated the Pi Win IoT to the latest insider preview version, that seemed to produce some performance improvements.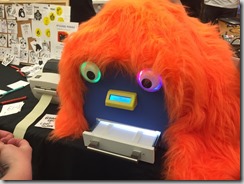 The sticker design was updated with the branding for this faire. Below were some of the designs people came up with.